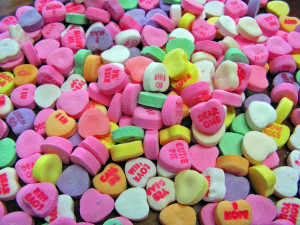 1 – With your drink, push your glass up to about a foot away from her and say, "Cheers!". She's most likely to clink your glass with yours out of habit.
2 – Read those silly Cosmo quizzes and save five questions on your phone, along with their silly point system. Use them!
3 – Use 5 bad pickup lines in a row on her – any 5 will do.
4 – Tightly roll three-fourths of a cocktail napkin, leaving the top open like the bud of a flower. Tell her to hold it for you and go to the bathroom. If you come back and she's still holding it, you're in! If not, ignore it and continue getting to know her. She's still with you!
5 – Point out an attractive woman to your love interest and ask her what you should say to pick her up, then do whatever she says – if it doesn't work, you now have a fun story to share with the other woman. The more ridiculous the better.
6 – Approach her directly, but with a catch – "I knew I had to come talk to you and find out if you were more than meets the eye."
7 – Ask what's her favorite passion and more importantly, the rewarding feelings she gets from it. Women enjoy talking about themselves, you'll get to know her better and she's likely to remember you more. Win-win.
8 – Play a guessing game and look around the room trying to figure out the "story" of other couples as you people watch together. Again, the more ridiculous the better!
9 – Give her a fun nickname. When you ask for her number, tell her to program your phone with her new nickname in it. A-wink! Wink!
10 – Text her fun, random facts from the bottom of Snapple caps, like "a female kangaroo is called a flyer." If she doesn't respond, you didn't risk anything meaningful so you can still call her.
11 – Take her window shopping and have her pick out fun outfits for you to wear. You don't have to buy anything to have a good time.
12 – Exchange stories from your most embarrassing moments. You'll automatically know things only her best friends know and if you're a gentleman about it, she's likely to trust you with more later.
13 – Ask her how she would hit on the most attractive man in the room and then have her practice on you first. But don't fall for it…yet!
14 – Introduce yourself with a handshake and when she shakes your hand, immediately switch into a game of thumb wars. Let her win (but only if she deserves it)!

For more check out: Dating Mastery from the Inside Out